Mosquito Control
Are you tired of not being able to enjoy the outdoors without dousing yourself with smelly and potentially harmful chemicals like OFF and DEET?
We'll, what are you waiting for? "BITE BACK!!!" By hiring the professionals at Elite Pest Solutions, LLC — we will be able to drastically reduce and potential eliminate* the mosquito population around your yard with a treatment that lasts up to 21 days!
Your professional technician will use a gas-powered backpack sprayer to target trees, shrubs, bushes and non-flowering plants with a residual formula that bonds to foliage, where it will remain as a mosquito repellent for up to 3 weeks. This treatment is good for fleas, ticks and some biting flies as well.
We will also treat low lying areas of your yard where standing water could be an issue and potentially be breeding grounds for mosquitoes. Best of all it only takes 30 minutes for the application to dry, so your family and pets and get back to enjoying your yard sooner.
This treatment is great for special events such as outdoor weddings, graduation parties and birthday parties. Application is typically done 24-48 hours before the event, leaving no odor and is applied long before food delivery and preparation, so there are no worries about contamination.
We know you're "itching" to call, so why wait any longer? "TAKE BACK YOUR YARD!" The professionals here at Elite Pest Solutions, LLC are ready to help, contact us today!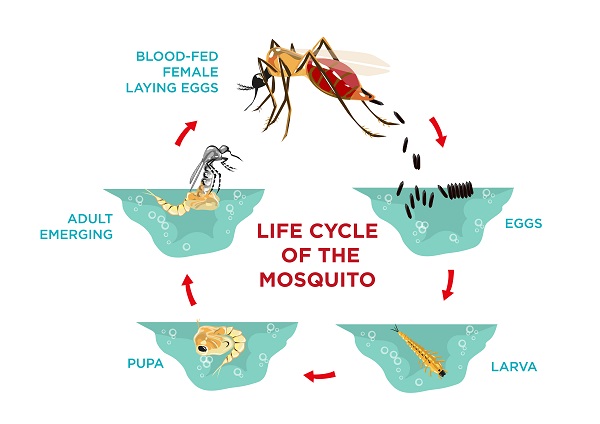 For those concerned about the Zika virus here in Wisconsin – Good News…
The Aedes species of mosquitoes that can transmit the virus is not yet found in the state. But for those who are traveling or have traveled abroad to Africa, Asia, Mexico, Central and South America and would like some more info about the virus and symptoms, please view the graphic below or visit
Wisconsin Department of Health Services – Zika Virus.

*For optimal and long lasting control, we recommend a season long program with treatments every 21 days or so. Treatment will drastically reduce the populations of mosquitoes but we cannot guarantee total elimination of populations since the biting pests can travel and sense humans from 500 yards away.