Mosquito Control & Extermination
Enjoy Wisconsin summers without mosquitoes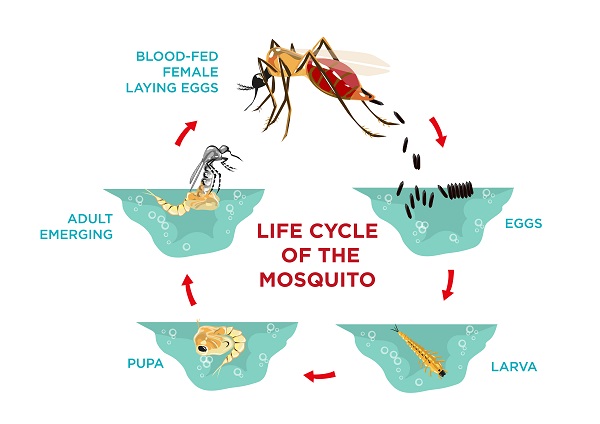 Elite Pest Solutions controls mosquitoes, ticks, and fleas in your yard so you can enjoy being outside and not be bugged!
Why spray yourself with harmful chemicals that don't really keep those mosquitoes away when you can take care of the bugs at the source. Treat your yard instead of yourself so you can enjoy more cookouts, sunsets, water balloon fights, and bonfires without so many itchy mosquito bites.
Elite Pest Solutions take care of your mosquito problem and also treat your property for ticks and fleas. Not only will you, your family, friends and pets can enjoy a safer, more comfortable summer outside, but so will your employees who work outside.
Our treatment will drastically reduce and potentially eliminate* the mosquito, flea and tick population around your yard with a treatment that lasts up to 21 days! Best of all, you can enjoy safely using your yard within 30 minutes of the treatment.
How to Eliminate Mosquitoes
Remove breeding sources
Discard standing water
Treat shady, leafy, non-flowering vegetation
Repeat every 21 days for best results
A mosquito lives a short life — typically completing its lifecycle between 4 – 30 days. Regular treatments are required to rid your yard of as many mosquitoes as possible, especially because mosquitos could hatch in other nearby locations (like your neighbors' yard) and find their way to you.
Your professional technician will use a gas-powered backpack sprayer to target trees, shrubs, bushes and non-flowering plants with a residual formula that bonds to foliage, where it will remain as a mosquito repellent for up to 3 weeks. This treatment is good for fleas, ticks and some biting flies as well.
Because mosquitoes breed in standing water, we'll also treat low lying areas of your yard where standing water could be an issue.
It only takes 30 minutes for the application to dry, so your family and pets and get back to enjoying your yard sooner and your employees can work safely.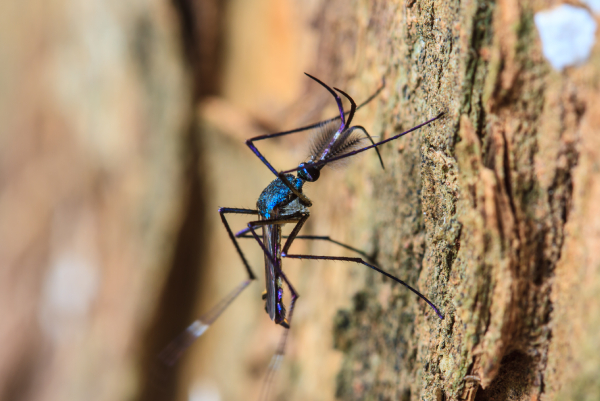 How to Eliminate Mosquitoes Without Chemicals
Mosquitoes can be eliminated at the larvae and adult stages. To eliminate mosquito larvae without chemicals, remove sources of standing water where the larvae will grow into pupae and turn into adult, blood-fed mosquitoes. Remember, it only takes a few days for many mosquito species to cycle through from egg to adult. You can introduce mosquito fish (top-feeding minnows) to ornamental ponds–these minnows love to gobble up the mosquito larvae.
Adult mosquitoes can be eliminated with mosquito traps or eaten by predators like bats, birds and frogs. They can be repelled by smoke and oils like citronella.
Unfortunately, these methods typically cannot keep up with the mosquito population. The most effective method to eliminate mosquitoes is a combination of professional insecticide application and practicing regular preventative measures.
How to Prevent Mosquitos from Returning
If only the winter freeze could get rid of mosquitoes for good! Unfortunately, some species of mosquito eggs are able to survive below-freezing temperatures. What they can't survive is lack of water.
remove objects in your yard or job site that leave standing water: tires, buckets, toys, bottles, barrels,
cover equipment or outdoor furniture that could collect water during a rainstorm
empty flower pots, urns, unused plastic swimming pools, and pet water dishes every 2 days
change the water in birdbaths every week
fill in holes, ditches and ruts so they don't collect water
When to treat your yard for mosquitos, ticks or fleas
Treat your property for biting bugs about 24-48 hours before a special event. Weddings, graduation parties, retirement parties and birthday parties are so much better without bugs!
Our treatment leaves no odor and is applied long before food delivery and preparation. Our treatment will not contaminate anything you serve for your special event.
Mosquito Control Improves Community Health
Mosquito bites are more than annoying–they can be dangerous, even deadly. Mosquitoes are responsible for over 1 million deaths each year worldwide. They carry diseases like malaria, dengue fever, yellow fever, West Nile virus, Zika virus, and encephalitis. These diseases can cause excruciating joint pain, headaches, tiredness, rashes, very high fevers, nervous system damage, meningitis, and death.
While many of the diseases carried by mosquitoes are more prevalent in tropical areas, some outbreaks do occur in northern climates. A nasty (but rare) form of mosquito-transmitted encephalitis was first discovered in LaCrosse, WI several decades ago. Called LaCrosse Encephalitis (LAC), it is thought to be transmitted by a woodland mosquito.
For many, Zika can be mild, like a flu that lingers for a few weeks. However, Zika has also been linked to an auto-immune disorder that causes nerve damage and paralysis in adults and deadly neurological defects in newborns.
Mosquitoes also transmit diseases to animals, including dog heartworm and eastern equine encephalitis. There is no permanent cure for dog heartworm, but it can be prevented or controlled with medication or injections.
Visit the CDC or the American Mosquito Control Association to learn more about preventing mosquito-borne diseases.
Elite Pest Solutions: Trusted Pest Elimination Experts
We know where mosquitoes, ticks and fleas like to hide. We get them at their source so they can't reproduce and make your life miserable. At the same time, we know that your landscaping is important to you. We won't trample your flowers or crush your hedges with our equipment. We treat your yard and property the way we want ours to be treated and strive to leave it in pristine condition every time we visit.
Are you itching to take back your yard? The professionals here at Elite Pest Solutions are ready to help you. It's more affordable than you think to keep your yard practically mosquito, tick and flea free all summer. What are you waiting for? Give us a call and we'll give you a free quote.